There are six basic steps to building a successful brand: define, develop, apply, communicate, protect and build.
This step-by-step guide to branding will take you through each of those in detail – with examples – so you're ready to add value to your business with effective branding.
Brand isn't just your logo…
Think about brand and you might imagine the empowering tick of Nike or or the colourful typography of Google. And whilst it is true that the most recognisable part of a brand is its logo, the term 'brand' actually covers a whole lot more.
From your tone of voice and visual style, to the music you play or the uniform you wear, brand is the distinctive DNA of your business identity. Get it right and you'll find it easier to attract customers and charge higher prices. But it isn't as easy as it sounds…
WHAT IS A BRAND?
Brand is the identity of your business. Not just the elements that you can control – like your corporate tone, design style and projected personality – but how the public perceives your company.
It's shorthand for what your business means and what people can expect from you, and it's an important factor in why consumers choose one product over another.
Branding in practice
Imagine you've got £40,000 burning a hole in your pocket. You want to buy a car… but which one? They've all got four wheels and get you from A to B. You could pick any make and model. But you probably already know which showrooms you'll be visiting. From the rugged reliability of Volvo to the exclusive urban luxe of Mercedes, your ideas and emotions about these manufacturers have been carefully crafted by branding.
BENEFITS OF BRANDING FOR BUSINESSES
Brand recognition
We're more likely to buy brands that we're familiar with. We know what to expect and what they offer. (That's why low-cost supermarkets often mimic the design of established brands to sell their own brand products. If you've ever been tricked into buying Notella instead of your usual chocolate hazelnut spread, you'll understand.) Having a recognisable brand can lead to more sales.
Customer loyalty
Costa, Starbucks or Caffé Nero? The likelihood is you have a preference. Customers are extremely loyal to the brands they love. If customers form an emotional connection with your brand, you can create repeat custom and reduce the cost of acquiring new sales.
Premium pricing
The brands we buy send out strong signals to the people around us, like the telltale flash of red from the sole of a Louboutin shoe. Perception can play a major role in our buying decisions. If your brand says something positive about your customers – their success, their environmental credentials – you can charge a premium as customers pay to be associated with the brand.
Brand equity
Having a strong brand makes it easier to launch new products. If you already have a loyal following for one product in your range, it is easier to hit the high street with the next.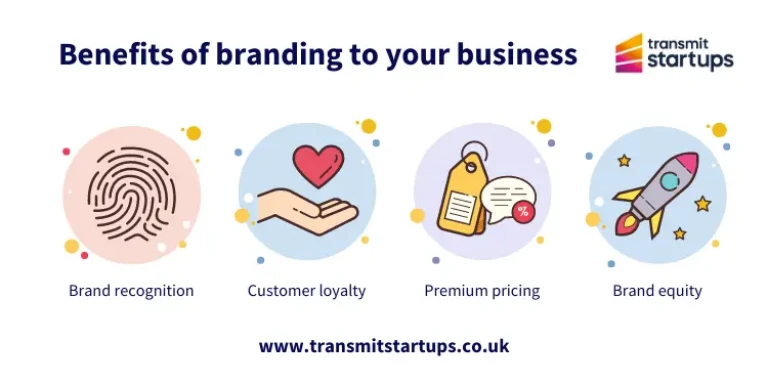 Branding in practice
Apple have grown to be the most valuable brand in the world. Their aspirational products are associated with innovation and high design standards. Their brand is carefully crafted and managed. From the guru-like launch events lead by the late great Steve Jobs, to the sleek showrooms run by Apple Geniuses, everything Apple does adds value to their brand and business.
BRAND BUILDING TECHNIQUES
Define the essence of your brand
To create a strong brand for your business, you need to communicate your vision and values through all areas of your company. (If you've written your business plan, you should be able to describe these easily.) Aim for a brand that is true to these values, authentic and audience-appropriate.
Authentic
Think about what motivated you to start your business and what you'd like to achieve through its operation. That will help you tap into the essence of your brand and stay authentic.
Whether you want to change the world with your feminist t-shirt designs or make life easier for the elderly with a new medical alert service, this should inform how you brand your business.
Think about what makes your business different from others. Is it your warm welcome? Your sassy style? Your authority and expertise? Your homemade charm?
Decide on three or four key words to describe your brand and think about how these characteristics can be conveyed using colours, fonts, tone of voice and more.
Or if you haven't quite reached this point yet, then check our guide on How To Start Your Own Business.
Audience-appropriate
It is important that your brand is tailored to the interests, ideals and aspirations of your intended customer.
Anything else will confuse and distract people from the message you're trying to convey.
Here are some things to think about:
What do I want people to think and feel about my business?
What tone of voice will my customers respond to most favourably?
What matters most to me and my customers?
What would my customers definitely NOT want?
What other brands do my customers like and why?
What is the personality of my brand?
What colours suit the brand I want to convey?
One way to think about audience-appropriate branding is to conduct market research and create a customer persona.
Market research will tell you exactly what people want from your brand. Once you have these insights, you write them up into one or two ideal customers and create all of your marketing materials with them in mind. Check out our introduction to marketing strategy.